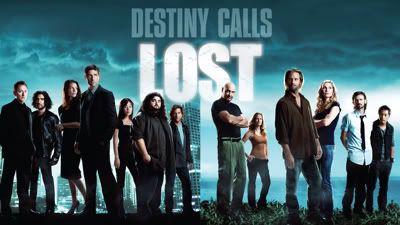 This is the discussion thread for the next LOST episode, "The Little Prince"
Please utilize this thread to post all your episode comments, reviews, simple questions and general thoughts regarding the episode.
Any
new
theories or big issues raised by the episode may be started in a new thread.
Enjoy the episode!
Previous Season 5 discussion threads can be found in
Episode Discussion Threads: Season Five
.
There are just a few things that I'd like to mention in order to hopefully make everyones viewing of the Episode Discussion Threads a little more enjoyable:
*
First off, if you haven't already, please take a moment and read the
forum guidelines
. Many questions can be answered by simply taking a few moments and reading them over.
*
For those who don't want to "flip" through so many pages while reading the episode discussion threads (or any large threads), you can set the number of posts to view per page as high as 60. Just go to
UserCP
>
Edit Options
>
Thread Display Options
>
Number of Posts to Show Per Page
. The available options are
Use Forum Default
,
5
,
10
,
20
,
30
,
40
, and
60
.
Forum Default
is
10
. *NOTE: Increasing the number of posts to view per page may increase page loading times.*
*
Want to revisit a topic that has possibly been discussed already? Then please view the
Guys? Where are we?
forum where any and all topics from all seasons of
LOST
are open for discussion.
*
Have a new twist on a possibly older theory? Then stop by the
What I think is going on
forum and let us hear about it.
*
Both "Guys? Where are we?" and "What I think is going on" are where you can re-hash old ideas, concepts, and theories to your hearts content without worrying about your posts being merged or moved.
*
If you have a question about how to add an avatar, a profile picture, a signature picture, how to get into chat, or how to edit your location, please visit the
LOST-TV Help Desk
. You can most likely find the answer to your question there. If you cannot, then feel free to start a new post
there
about the problem you're having. The moderators, administrators, as well as some regular members here keep a very close eye on that forum and your question will not go unanswered for long.
*
If you have a question how to find past episodes of LOST, please take a look at the
Miss an Episode?
thread.
*Please note that discussing illegal downloading of episodes is not allowed here.*
*
If you have a question about what so-and-so may have said in a past episode, please take a moment and look through the
transcripts
of past episodes. These episodes have been transcribed by members of the forum.
*
If you have a website related to LOST that you'd like to mention for everyone to check out, please post it in the
Advertise your LOST site/RPG here!
thread.
*
If you're looking to see if something has been posted here before related to LOST, please take a moment and perform a
Search
of the forums. That link will allow you to search the entire forum in the event that you may not know where something has been mentioned or is currently being discussed. A great deal of work has gone into ensuring the Search function here is very thorough so please utilize it.
*
If someone uses a word, acronym, or slang that you're unfamiliar with, please check the
LOST-TV Dictionary
as it will likely answer your questions.
*
If you're having a problem unrelated to LOST and need help from the moderators and/or administrators, feel free to PM any of us. We'll be glad to help you out. You can find a list of the mods/admins
here
as well as at the bottom of the thread listings for each individual forum.
Thank you all for your time.